Samplers & Noise¶

What is Noise?¶
In Terra, noise does not refer to sound you can hear, but rather a series of randomly* generated values. These values are produced by something we will call a noise sampler - which is just a mathematical function that turns an input into a randomized numeric output.
Why is Noise Important?¶
Noise is a central concept in Terra, because just about every random aspect of world generation is influenced by noise to some degree. Having a basic understanding of noise and how to manipulate it will give you insight into how worlds are randomly generated by Terra, and is an important skill to have if you want to develop your own config packs.
Before learning how to manipulate noise, you should first have an understanding of the underlying concepts outlined here. Don't worry, we won't throw anything too complicated at you for now! Having a firm grasp on noise will bring you closer to controlling exactly how world generation will behave, which is why having a foundational understanding is important.
Here is just a short of list of things heavily influenced by noise in Terra:
The placement of biomes in the world.

How terrain is shaped.

How flora and trees are distributed.
Noise Basics¶
Here we will cover some key points is grasping noise in Terra. If you feel like certain concepts are too difficult to understand, feel free to skim over them for now, and revisit them later.
Applying Noise to World Generation¶
You might be wondering: How does this information translate to generating an entire world? Before we jump straight from simple noise generation to generating entire worlds, let's just keep it simple and apply the knowledge we've covered thus far to a simple application.
Planting Grass¶
Let's say we have a patch of land, and we want to generate some tall grass on it, how would we determine where the grass goes? The first thing we will want to do is define some basic rules for generating grass, before we get to the part where noise is involved:
Grass may only generate on top of Grass Blocks.

Grass may only replace Air.
Simple enough, now we know that grass will only generate where appropriate. With only these rules however, we would end up with grass on top of every single grass block! What if we only wanted it on some grass blocks? Well we can use our white noise sampler for that!
For each block in the area grass will generate, we'll feed the X & Z world coordinates as well as the world seed into our 2D white noise sampler. This will provide us a random value (from -1 to 1 as discussed) for each block . We will then use that output value to determine whether we place some grass or not. The way this will be determined is by simply thresholding it! We'll start with a threshold of 0, where any value below our threshold will mean place grass.
Grass Placement Model
Results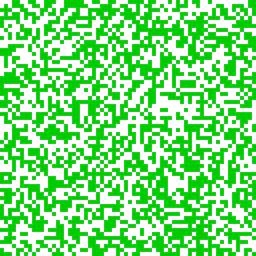 As you can see, we now have a method of randomly determining if grass should be placed or not for any given X-Z coordinate in any world. We can even reduce / increase how much grass we get by modifying our threshold value:
Threshold = -0.25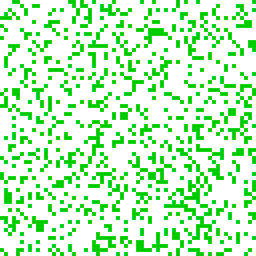 Lowering the threshold from 0 to -0.25 results in less grass because we are effectively removing the values between -0.25 and 0 from falling below the threshold. Conversely, increasing the threshold will result in more grass, as more values will fall below the threshold.
Combining this with our rules we established earlier, we now have a method of checking for any block whether it should be grass or not.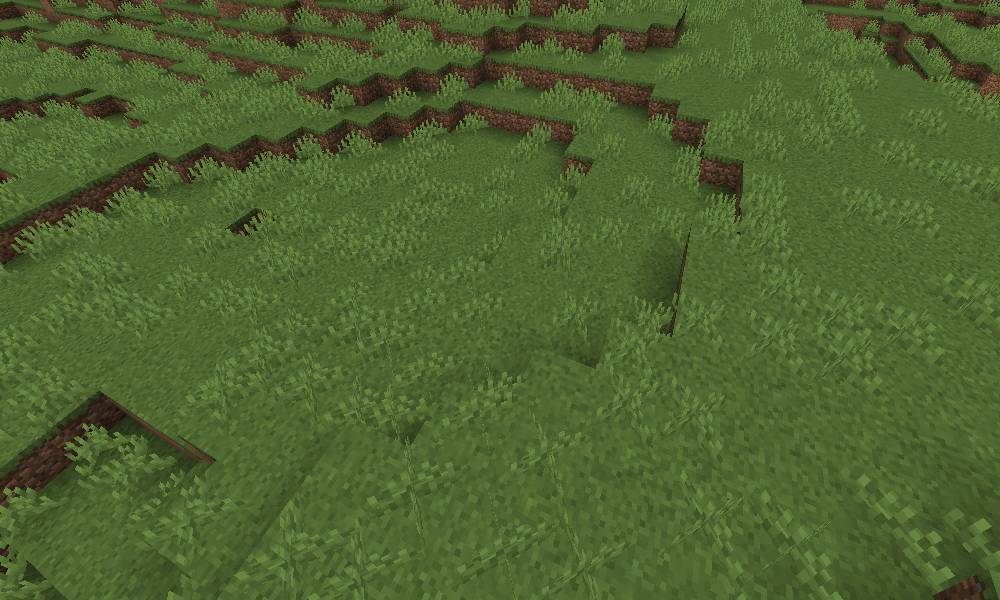 Coherent Noise¶
Thus far, we have only covered noise that outputs seemingly random tv-static-like values, which is fine for simple applications like the grass example above. But how can we get noise capable of producing smooth rolling hills, vast mountains, and other structured random generation? Let's place the white noise sampler under the category 'random noise', and introduce a new category of noise samplers called 'coherent noise'.
What's The Difference?¶
The main difference that separates random noise from coherent noise is that while random noise samplers produce noise with no apparent structure, coherent noise samplers produce 'structured' noise, where adjacent input values produce similar output values.
To get a better idea of the difference, here is a visualization of two different 2D sampled noise samplers that both share the same inputs:
Random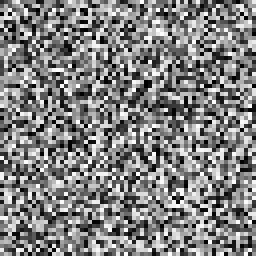 Coherent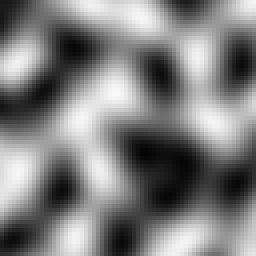 As you can see, the coherent noise example has a discernible structure where output values are smooth, compared to the random noise example where there's no apparent structure. The coherent noise algorithm used in the sampler above is known as simplex noise, and is one of the many flavors of noise provided in Terra.
Categorization of Noise Samplers
Noise Samplers

Random Noise Samplers

Coherent Noise Samplers
Noise Segmentation¶
Now that we have introduced coherent noise, we can provide a better visual example of noise segmentation. Let's use the following list of colors and distribute them across a noise sampler via segmentation:
colors

:




  

-

 

Red




  

-

 

Yellow




  

-

 

Green




  

-

 

Blue



Since we know that noise sampler outputs will generally be between -1 and 1, we will need to assign each color its own a range within the output range [-1, 1]. To do this, it's helpful to visualize things on a number line like so:

From this we can intuitively see that blue corresponds to the range [-1, 0.5], green to [-0.5, 0] and so on. Thankfully, you won't ever have to define every range required for segmentation by hand, as Terra will automatically segment noise for you, but it's still useful to get an idea of what is happening behind the scenes. Let's finally segment some simplex noise by categorizing the output values into our colors based on the range they fit in.
Raw Noise Values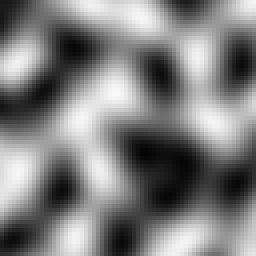 Segmented Noise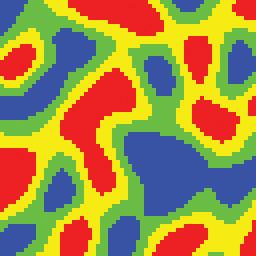 This is where the usefulness of segmentation comes in - we can treat these colors as anything, whether that is a set of biomes, a pattern of blocks, or anything else that requires a list and a sampler. For example, red could represent a tropical island biome, yellow a beach, green shallow ocean, and blue deep ocean. Generally lists like this will be defined as a weighted pool such that you can easily weigh certain items to take up more space as needed. As an example, here is what our new biome list may look like:
biomes

:




  

-

 

TROPICAL_ISLAND

:

 

1




  

-

 

BEACH

:

 

1




  

-

 

SHALLOW_OCEAN

:

 

1




  

-

 

DEEP_OCEAN

:

 

1



Generalizing the Sampler¶
So far, we have defined the concept of a 'noise sampler' as something that takes numerical inputs and a seed, and produces a numerical output dubbed 'noise'. We can make a more generalized definition of a sampler that encapsulates noise samplers:
In a practical sense, samplers provide a way of mapping a set of world coordinates in any given world (based on the seed) to a set of numerical values.
Categorization of Samplers
Samplers

Noise Samplers

Random Noise Samplers

Coherent Noise Samplers
Configuring Samplers¶
Now that we have covered some essential topics regarding samplers and noise, let's talk about creating, configuring, stretching, squishing, tweaking, and remixing it!

Conclusion¶
Now that you've got an idea of what noise is, how it works, and a couple ways of configuring it, you should now be equipped with the necessary knowledge to start configuring your own fancy samplers for use in your own customized world generation! For more information on the available samplers in Terra, please refer to the Sampler Configuration page. If you have any further questions, feel free to ask us in our Discord!